Golden West Service
Flat Side FMC Woodchip Car
Part #DEI-17020 N Scale Supply Price:

Also available in a six pack (unique numbers) Part #DEI-17020-6 N Scale Supply Price: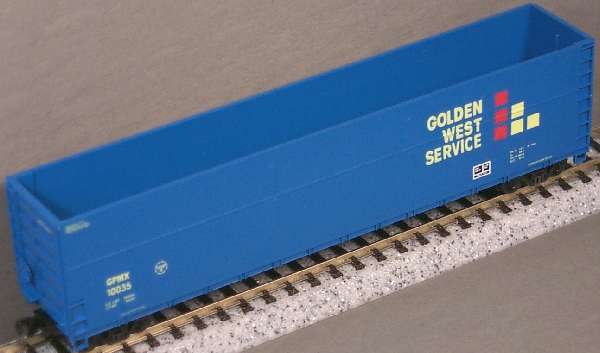 Golden West Service grew from a relationship between Southern Pacific and Greenbrief Industries (owner of Gunderson and other rail car builders). Greenbrier re-built thousands of former SP cars of every design and leased them to shortlines and private car operators under the Golden West name. These particular cars were leased to Georgia Pacific Corporation, a major supplier of paper and other timber products.

Back to deLuxe innovations Flat Side Woodchip Car Page
Back to deLuxe innovations page
---
Email to sales@nscalesupply.com
Back to Catalog Page
© Copyright 1999 by Solution Development, Inc.