50-ft Pacific Car & Foundry Insulated Loader-Equipped box car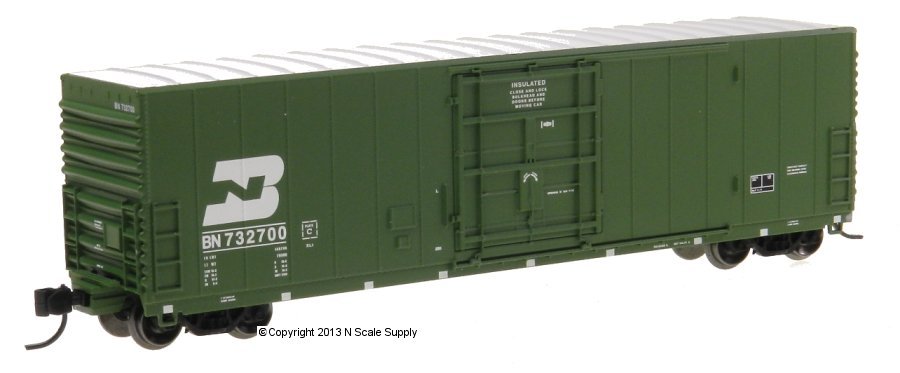 Features & Options

Railroad specific options include single or double Youngstown plug doors and Hydra-Cushion or Keystone cushioning details. Wheels of Time cars will ride at the proper height on realistic trucks with metal wheelsets; have body-mounted couplers like the real thing; have realistic underframe details; even have rivets at the side seams, and with the ultra-precise Wheels of Time tooling and authentic and attractive lettering and decoration youíve come to expect from Wheels of Time.
More details from the actual prototype and from the model.

These 70-ton Plate C cars were considered bunkerless refrigerator cars or insulated box cars and carried the mechanical designation of RBL or XLI, respectively. They were assigned to temperature sensitive commodities such as dried foods, canned goods, jar goods, drinks, packaged foods (rice, pasta, cereals), pet foods, nursery plants, seeds and xmas trees. PC&F (now known as PACCAR) had itís beginnings making railroad logging cars. But the company has a varied history: they were involved in making the armour for Sherman tanks during WW2, OEM of heavy duty trucks (Kenworth c. 1945, Peterbilt c. 1958), and of course, specialized in refrigerator car manufacturing & repair, finally exiting the railroad OEM business in 1984. It continues today as a one of the largest class 8 truck manufacturers worldwide.


Description

Image

MSRP
Our Price
Part #
Golden West Service (GVSR),
(8 Road Numbers)

$26.59
WOT-61029
Wisconsin Central
(5 Road Numbers)

$26.59
WOT-61037
GN Western Fruit Express (RBWX)
(4 Road Numbers)

$26.59
WOT-61043
GN Western Fruit Express (RBWX)
(3 Road Numbers)

$26.59
WOT-61047
GN (BN) Western Fruit Express (RBBN)
(1 Road Numbers)

$26.59
WOT-61050
BN ex-Frisco
(8 Road Numbers)

$26.59
$21.27
WOT-61051
Cotton Belt (SSW) "Hydra-Cushion For Fragile Freight"
(8 Road Numbers)

$26.59
WOT-61059
Unlettered, Green, Dimensional Data, PC&F 50-ft XLI Insulated Box Car, 10-6 YPD
$25.59
$20.47
WOT-61067