A six white LED lighting kit is sold separately.
The above piece installs face down and touches the electrical contacts shown below.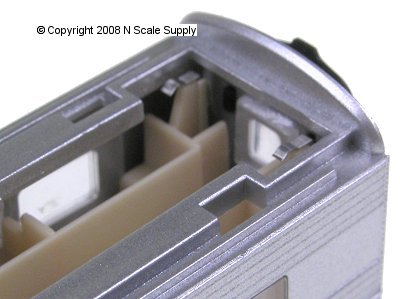 Here the lighting kit has been snapped into place. The roof will snap into this.
Features:
All New Tooling
Accumate Operating Couplers
All Detail Parts Added
Metal Wheelsets
When lightweight cars came to the Pullman fleet in the early 1940s, their smooth sides lent themselves to classy, colorful paint schemes. Corrugated stainless-steel sides, later added to match the look (and acknowledge the competition) of Budd's stainless-steel designs, created a variety of cars that ran on premier passenger trains.

Based on Plan #7484, the Walthers Pullman-Standard 64-Seat Coaches feature roadname-appropriate body styles with corrugated or smooth sides, with or without skirting. The cars ride on GSC 41-N trucks with blackened metal wheels. Other features include flush-fitting windows, full interiors, working diaphragms, Accumare(R) knuckle couplers, car number and name decals and factory-installed electrical pickups for drop-in interior lighting kit #933-1099 (sold separately).