Railcar Restoration & Charter Kit
Cornerstone Series

Part #WAL-933-3825

N Scale Price: $35.98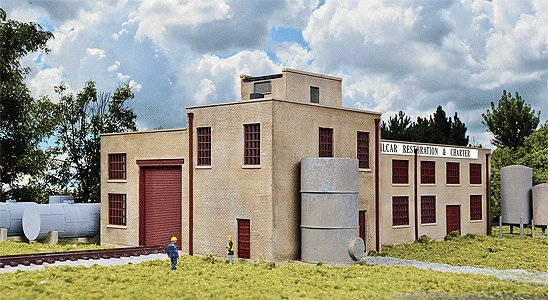 Great Showcase for Historic Equipment on Modern Layouts


Fits Diesel Era


Brick Construction


Doors Can Be Built Open or Closed


Baseplate Accepts Code 55 or Code 80 Rail


6 Assorted Storage Tanks


Realistic Decals


Molded in Five Colors & Clear Plastic

The average passenger car worked pretty hard over the course of its lifetime. Being started and stopped repeatedly, along with constant exposure to weather, and the normal wear and tear of everyday use all took a toll, despite the durable steel construction. As railroads began slashing passenger service, they quickly cut back on repairs, simply retiring cars that were no longer in good shape. But as historic preservation caught on in the 1950s, private individuals began buying up older cars with an eye towards saving them for future generations. Many were determined to get them back up and running, a daunting task that typically required removing, rebuilding, and replacing virtually every piece - heavy, dirty work that made having a well-equipped shop a must. Over time, what started out as a labor of love evolved into a business, as the shops began taking on restoration and rebuilding projects for others. To help pay the bills and keep their classic cars rolling, many began running charter services, providing cars for fantrips, business excursions and more. This building makes it easy to model a typical operation -- and an ideal way to add a variety of historic passenger equipment to your modern railroad! Designed for easy construction it's complete with loads of details and custom signs.

Kit - 8-3/16 x 5-1/4 x 3-3/32" 20.8 x 13.3 x 7.9cm
Back to N Scale Supply catalog page for : Walthers Cornerstone