Yard Office & Shed
Cornerstone Series(R)

Part #WAL-933-3822

N Scale Price: CURRENTLY UNAVAILABLE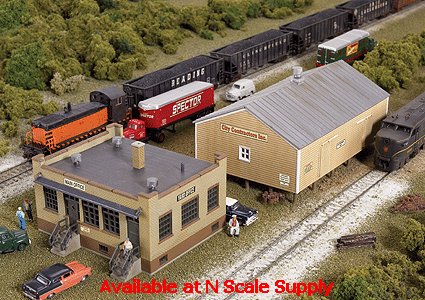 Fits Steam or Diesel Eras * Two Complete Structure Kits * Milwaukee Road Prototype Yard Office * Great Addition to Any Yard or Large Industry Complex * Decal Signs Included

With its multi-colored brick facade, this nifty little office is perfect for any business. Based on a railroad yard office, it can easily be the office for a large fuel or grain dealer, a contractor or the administration building for a major industrial complex. It's also ideal for any small business from photo processor to TV and radio repair shop - in later years the prototype was actually used as a fish store!

Provide more storage for the local grain elevator, feed mill or down on the farm with this versatile structure. Typical of wooden buildings found in rural areas it can also be used alongside small industries and other businesses. The kit features detailed plastic parts to capture the look of wood construction, a rooftop vent and a set of decal signs.
Back to N Scale Supply catalog page for : Walthers Cornerstone