Pella Depot
Cornerstone Series(R)

Part #WAL-933-3818

N Scale Price: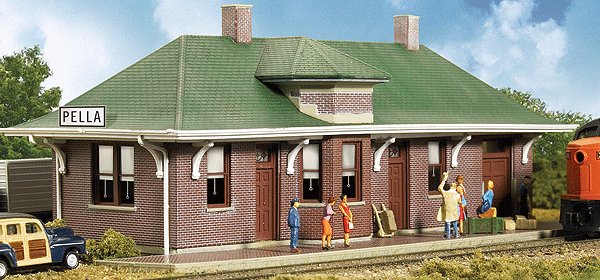 * Unique Brick Design

* Stained Glass Transom Decals

* Authentic Design & Detail

* Rock Island Prototype

Railroads went to great lengths to provide important towns with a proper depot that projected a positive image of the community and their company. Larger and busier towns, or those served by more than one railroad, typically received fancier structures with more elaborate trim and attention to detail. While most were built of wood, brick was sometimes chosen for its appearance, durability and the image of strength it projected. Such was the case with the Rock Island depot at Pella, Iowa. This distinctive design featured brick construction, leaded glass door transoms and a bell roof with flowing lines that gave the structure its unique identity. Today, the structure is on the National Register of Historic Places and houses a museum.

Like the prototype, this model is a unique addition to any small town. The kit captures all the fine detail of the prototype and fits easily on any steam- or diesel-era layout.
Back to N Scale Supply catalog page for : Walthers Cornerstone