Double Track Truss Bridge
Walthers Cornerstone Series Building Kits
| | |
| --- | --- |
| Part #WAL-933-3242 | N Scale Price: $25.58 |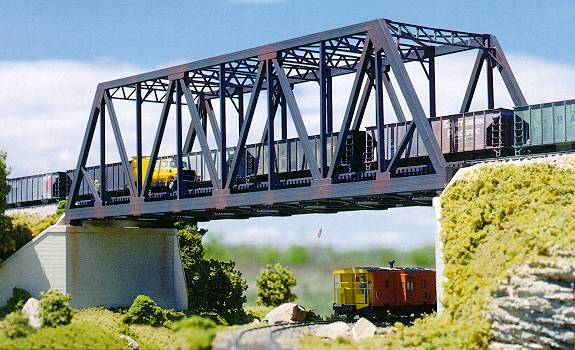 Birds chirp and water rushes by in the stream as you stake out a spot with your tripod. On a day like this the bridge is a perfect place to photograph a few trains. While you're waiting, you take a good look at the massive, double track structure.
Amid its rust streaks and a liberal coating of grime, you can see the heavy, riveted joints between thick steel beams. A hi-rail truck appears and its crew gets to work on the track. A distant airhorn warns of an approaching train. Before long a ballast extra appears. The crews exchange greetings as the train passess. In a moment, the action is over. You pack up your gear and head out, knowing you've captured some great images of your favorite local landmark.
Truss bridges are very common on North American railroads. The first of these structures were built from wood in the1 820's. Steel through truss bridges began to appear after 1860.
As railroad equipment got heavier and traffic increased, larger, stronger bridges, often carrying more than one track, became the norm.
This Cornetstone Series® Double Track Truss Bridge is based on a typical North American prototype. It can be built as a single span, or you can combine two or more bridges to model river and canyon crossings having several spans or multiple piers. With its heavy steel construction, multiple track design and appropriate clearances for handling loaded double stack cars, the Cornerstone Series® Double Track Truss Bridge will make a practical, scenic addition to your railroad's mainline.
The kit includes trusses, chords and bridge shoes.Finished model measures 10-3/4" x 2-11/16" x 2-3/4".