Jim's Repair Shop Plastic Kit

Every town seems to have that one person who can fix anything. Working out of his small shop on the edge of town, Jim can repair everything from damaged wheelbarrows to broken sewing machines. Of course, the town folk all know his real specialty is repairing things other people tried to fix but couldn't!

On N Scale layouts or modules, Jim's Repair Shop is big on personality yet has a small footprint. On Main Street, it makes a great small storefront or restaurant in the older part of town. Elsewhere, it's equally at home as an office at a grain elevator, a guard office at a factory or mill complex, or as a bait and tackle shop at the lake. With the addition of some pumps (sold separately), it'll even make a great gas station out on the highway. This easy-to-build kit has parts molded in appropriate colors and includes realistic decals. The finished model measures 2-3/4 x 1-3/4 x 1-3/4".


Part #WAL-933-3229
N Scale Price:$19.98
New: March 2004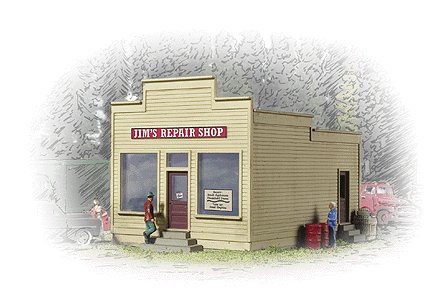 Picture courtesy of Walthers
Back to N Scale Supply catalog page for : Walthers Cornerstone