KAM4-LED Keep Alive

| | |
| --- | --- |
| Part #TCS-KAM4-LED | $48.76 |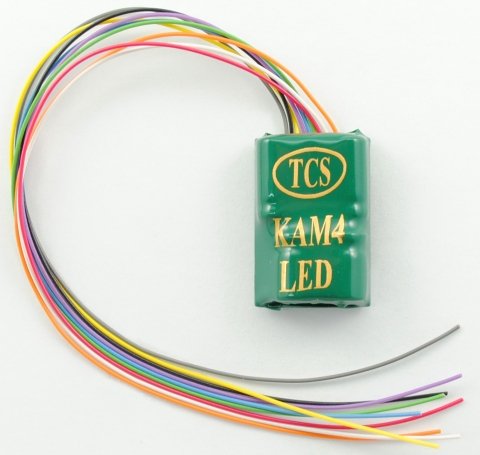 Electronic Specifications:

Interface Type: Hard-Wire

Dimensions (L x W x H): 0.945" x 0.657" x 0.33" or 24mm x 16.7mm x 8.38mm

Scale: HO Scale & N Scale

Continuous/Peak: 1.0/2.0 Amp

Total Functions: 4

Function Rating: 200 mA

LED Outputs: 4
Features:

This decoder is a M4 decoder with built in Keep-Alive™, and will keep your locomotive operating for 6-15 seconds without power (As a result of dirty track, poor contacts, etc.). This decoder is physically larger than a M-series decoder, but features the same operational characteristics. The on-board resistors on this decoder allow for LED installations without the need for external resistors for F0F, F0R, F1 or F2. Use the standard KAM4 decoder if your locomotive uses incandescent bulbs.



• Keep-Alive®: Included on-board for smooth, stutter-free operation.
• Back EMF Load Compensation: Provides superior slow speed control and high performance under load.
• Quiet Drive: Super-quiet motor control for "buzz" free motor performance.
• DC Mode: Decoder will automatically detect DC power. You can also configure how your lighting effects function on DC.
• Variable Momentum: Allows you to make custom acceleration and deceleration curves.
• LED Support: This product does not require external resistors when connecting LED's.
• Function Remapping: Buttons 0 through 12 may be used to control the lighting functions of this decoder.
• Programmable Lighting Effects: Choose from 20 separate user-programmable lighting effects!
• Dimmable Brightness: Configure multiple different brightness levels for your LED's or incandescent bulbs.
• Decoder Lock: Feature which prevents accidental/unwanted programming while activated.
• Airwire™ Compatible: Fully compatible with Airwire™ operation.
• User-Loadable Speed Tables: Configure custom speed curves and set speed limits.

Click here for PDF
Back to N Scale Supply catalog page for : Train Control Systems