AMD4 - Four Function Drop In Decoder
for
Athearn SD75
Atlas MEDIUM frame engines -
8-40CW
B23-7
B30-7
C420
C628
C630
DASH 8-40B
DASH 8-40C
GP38
GP38-2
GP40
RS11
SD24 (2003 EDITION)
SD26 (2003 EDITION)
SD35
SD9
Part #TCS-AMD4
$41.60
BACK ORDERED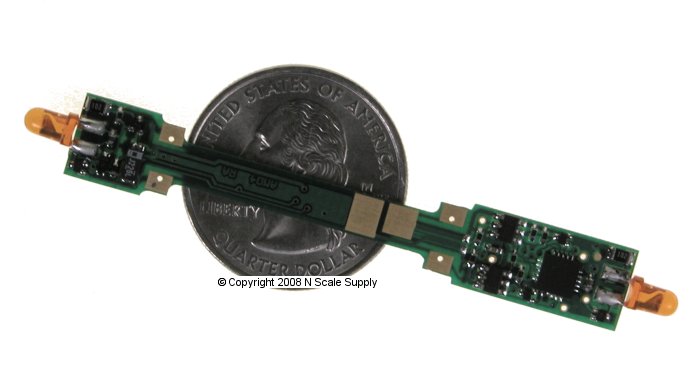 Electronic Specifications:

One-amp continuous motor drive

two-amp peak motor drive
Two 100 mA function outputs
Golden White LEDs

Size:

Length: 2.83"
Width: 0.351"
Height: 0.13"
Features:
Back EMF Load Compensation
Drop in style decoder for easy installation.
Golden White LEDs
Decoders are almost transparent on DC, making the engine act like a decoder isn't there. Brake on DC allows you to control the lights while the train is in a DC block.
Quiet Drive is active at all times.
Dither provides rapid bursts of power to overcome resistance. You control both the power and frequency. See slow speeds unequalled in the industry.
Lighting Effects: Auto-reversing headlights, Mars, Gyra, Rotary Beacon, Single- and Double-Pulse Strobe, Opposite Dim, Flashing and Random flicker. Rule 17 headlight dimming can be set to occur when stopped, opposite the direction of travel, or both. You always have manual control.
Button Control allows you to pick the control buttons of your choice.
Factory Reset lets you change most of your choices back to their factory default values if you get into a situation you don't like.
128 speed steps are active when Mid volts, Top volts, Start volts or the user- loadable speed table is active for much smoother operation.
Primary 2-digit addressing or advanced 4-digit addressing may be used.
Consist Addressing has a Special Feature allowing you to automatically turn off any undesired lighting when you add the engine to a consist.
TCS decoders support all programming modes plus OPS mode ( on-track programming ) and meet NMRA DCC standards for compatibility.
Click here for PDF
Back to N Scale Supply catalog page for : Train Control Systems