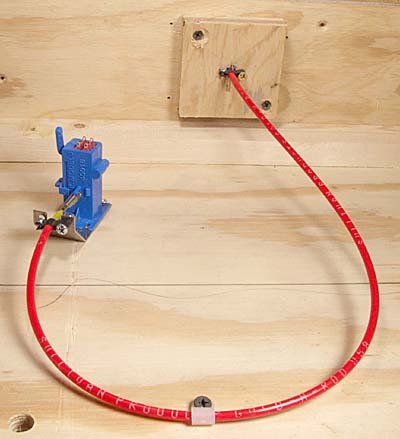 The tubes are 3 feet long and you can cut them to any length you need.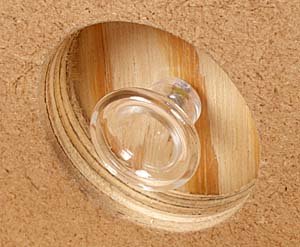 A clear acrylic knob on the fascia connects to a nylon push-pull tube. Behind the fascia, you can bend the tubing into tight curves
Flex Link™ Starter Kit
The starter kit contains everything you need for one Blue Point™:
1 Acrylic knob, pre-drilled
1 2-56 screw to attach the knob to the inner tube
1 5/32 styrene tube
1 3 ft Flex Link™ tube (contains both an inner and outer tube)
2 tube clamps with screws, anchors the outer tube at each end
1 steel bracket to hold the outer tube at the Blue Point™ end
1 2-56 threaded rod and clevis to attach inner tube to Blue Point™.
We've designed this kit so you can try out the Flex Link™. The other two products are designed to handle multiple installations.
Flex Link™ Hardware Kit
This package includes enough hardware to hook up five Blue Points™. It contains everything you need except for the tubing. Why do we have the tubing separate? Because you can cut the tubing into shorter lengths so you can hook up more Blue Points™.
Flex Link™ Tubing
This contains five sets of 3-foot flexible tubes. As mentioned above, you can cut these shorter if you have turnouts closer to the fascia so five sets of tubing can be enough for 5, 10, or even more turnouts, depending on the length needed to reach each turnout.