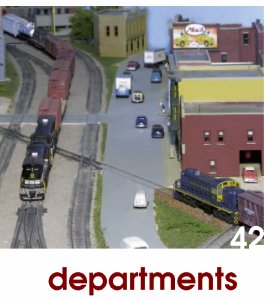 6
Welcome Aboard
8
New Arrivals
32
Great Shots
By Kirk Reddie
Charlie Burns' SP Coast Line
55
NSR Horizons
60
NSR Calendar
61
Ad Index
62
Observations
By George Riley
34
From Mineral Brown to Big Sky Blue
By Mike Komosinski
Enjoy a rainbow of color on Great Northern's 1960s boxcars.
39
Pis Aller Plywood
By R.D. Uhlenkott
Blend scratchbuilt components with a Micro Engineering kit to build a lineside industry.
42
The French Broad River Railroad
By Chuck Place
The French Broad lives on in a series of NTrak modules. Two are featured here.
46
Locomotives of the Boise Subdivision
By Major Tony Hammes
Tony shares some of his customized Burlington Northern locomotive roster.
49
GATX "New Image" Airslides
By Bryan Busséy
Kitbash a modern car from Atlas' older
airslides and covered hoppers.
52
Hauling Steel on the Pennsy
By Douglas Nelson
Great steel industry gondola loads for Pennsy and other railroads' gondola fleets.
On the cover:
Joe Dunn's basement empire, the Norfolk Southern, starts on page 20.