MIcro-Trains Smithsonian Civil War Series

In honor of the 150th anniversary of the American Civil War, Micro-Trains has joined forces with the Smithsonian Institution® to bring you the next exciting new series in N scale, the 'Smithsonian Civil War Series'! This 12-month specialty series will commemorate significant events throughout the war which will be featured on our modified 40' Hy-Cube Box Cars using vintage artwork from the Smithsonian's historical collections. This series will also include a caboose and diesel locomotive and will begin this September with the Battle of Fort Sumter Car. Contact your local dealer today to reserve this series!

Sign up for the Club Today.
8/30/13 Micro-Trains has cancelled the final 12th car in the series. There is only 11 cars in this series.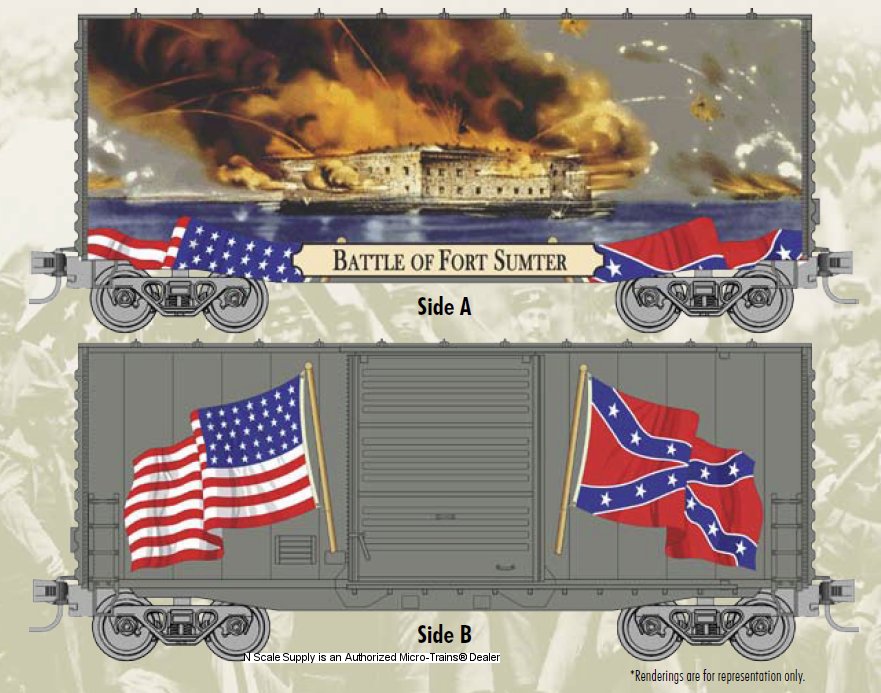 American Civil War
The American Civil War was a defining experience in our national history. Americans battled over preserving their Union and ending slavery. Both sides envisioned easy victories after eleven Southern states seceded and war broke out in 1861. But the bitter, ruthless fight lasted four years, and proved to be the nation's bloodiest and most divisive conflict. More than three million Americans saw battle: 529,332 lost their lives; another 400,000 were scarred, maimed, or disabled. The sesquicentennial of the Civil War presents an opportunity for Americans to reflect upon that conflict and its legacy in a spirit of reconciliation.

Battle of Fort Sumter, April 12, 1861
The nation's bloodiest and most divisive war began at Fort Sumter in Charleston, South Carolina, on April 12, 1861. After South Carolina seceded from the Union, the Confederacy demanded that the United States evacuate its fort in Charleston Harbor. Lincoln refused, provoking a Confederate attack.
Surrounded and vulnerable, Union forces surrendered the fort after two days of bombardment. The outbreak of war forced wavering states to choose between the Confederacy and the Union, and four more—Virginia, North Carolina, Arkansas, and Tennessee — seceded.

Description
Image
List $
Our $
Part #
American Civil War Loco Shell
Due to the uncertainty of being able to secure a power chassis for our FT locomotive, we are offering this loco shell so customers can switch their existing MTL chassis over to this shell.


$36.95
MTL-987 21 671
American Civil War Caboose


$32.95
MTL-100 00 350
Battle of Fort Sumter Civil War Series Car #1


$24.95
MTL-101 00 701
Battle of Bull Run Civil War Series Car #2


$24.95
MTL-101 00 702
Battle of Hampton Roads Civil War Series Car #3


$24.95
MTL-101 00 703
Battle of Shiloh Civil War Series Car #4


$24.95
MTL-101 00 704
Great Locomotive ChaseCivil War Series Car #5


$24.95
MTL-101 00 705
Battle of Antietam Civil War Series Car #6


$24.95
MTL-101 00 706
Emancipation Proclamation Civil War Series Car #7


$24.95
MTL-101 00 707
Battle of Gettysburg Civil War Series Car #8


$24.95
MTL-101 00 708
Battle of Vicksburg Civil War Series Car #9


$24.95
MTL-101 00 709
Sherman's March Civil War Series Car #10


$24.95
MTL-101 00 710
Surrender at Appomattox Civil War Series Car #11


$24.95
MTL-101 00 711
Civil War Era Bridge Kit
$39.95
MTL-499 90 948
Civil War Era Car Float Kit
$27.95
MTL-499 90 960

Union Train Set
The United States Military Railroad (USMRR) was used to support the Union Army. The sets will feature the first release of 3 all new car styles from Micro-Trains featuring fine car detail and printing, new underframe and truss rod detail, new rigid-frame trucks with simulated link and pin style couplers*. The set will be powered by a colorful 4-4-0 American Steam Engine and Tender** and will carry multiple 13" siege mortar loads on its flat car.

Couplers are not designed for hands-free coupling and uncoupling.
**Locomotives are produced by Bachmann®.



$189.95
MTL-993 01 200

ConfederateTrain Set
The Confederate Army used a variety of rail cars for their operation. The set will feature the release of 3 all new car styles from Micro-Trains featuring fine car detail and printing, new underframe and truss rod detail, new rigid-frame trucks with simulated link and pin style couplers*. Each set will be powered by a colorful 4-4-0 American Steam Engine and Tender** and will carry multiple 13" siege mortar loads on its flat cars.

Couplers are not designed for hands-free coupling and uncoupling.
**Locomotives are produced by Bachmann®.



$189.95
MTL-993 01 210
CIVIL WAR ERA CARS
These three all-new car styles will be offered in three different road names as single releases this spring. With a rigid-frame truck
and simulated link-and-pin style couplers, these 26' cars will be the most prototypical N scale models for modeling in the 1800s.
Description
Image
List $
Our $
Part #
U.S. Military Railroad Box Car



$17.70
MTL-151 00 010
U.S. Military Railroad Cab Car



$17.70
MTL-152 00 010
U.S. Military Railroad Flat Car



$16.90
MTL-153 00 010
Western & Atlantic Railroad Box Car



$17.70
MTL-151 00 020
Western & Atlantic Railroad Cab Car



$17.70
MTL-152 00 020
Western & Atlantic Railroad Flat Car



$16.90
MTL-153 00 020
Baltimore & Ohio Box Car



$17.70
MTL-151 00 030
Baltimore & Ohio Cab Car



$17.70
MTL-152 00 030
Baltimore & Ohio Flat Car



$16.90
MTL-153 00 030
Manassas Gap Box Car



$17.70
MTL-151 00 050
Manassas Gap Cab Car



$17.70
MTL-152 00 050
Manassas Gap Flat Car



$16.90
MTL-153 00 050
GEORGIA RAILROAD Box Car



$17.70
MTL-151 00 060
GEORGIA RAILROAD Cab Car



$17.70
MTL-152 00 060
GEORGIA RAILROAD Flat Car



$16.90
MTL-153 00 060
PENNSYLVANIA RAILROAD Box Car



$17.70
MTL-151 00 070
PENNSYLVANIA RAILROAD Cab Car



$17.70
MTL-152 00 070
PENNSYLVANIA RAILROAD Flat Car



$16.90
MTL-153 00 070
Union Pacific Box Car



$21.95
MTL-151 00 081
Union Pacific Box Car



$21.95
MTL-151 00 082
Union Pacific Cab Car



$21.80
MTL-152 00 080
Union Pacific Flat Car



$16.70
MTL-153 00 081
Union Pacific Flat Car



$16.70
MTL-153 00 082
Central Pacific Box Car



$19.90
MTL-151 00 091
Central Pacific Box Car



$19.90
MTL-151 00 092
Central Pacific Cab Car



$21.80
MTL-152 00 090
Central Pacific Flat Car



$16.70
MTL-153 00 091
Central Pacific Flat Car



$16.70
MTL-153 00 092
US Military RR Tank Car



$20.90
MTL-154 00 010
Western & Atlantic Tank Car



$20.90
MTL-154 00 020

Baltimore & Ohio Tank Car



$20.90
MTL-154 00 030

Manassas Gap Tank Car



$20.90
MTL-154 00 050
Georgia RR Tank Car



$20.90
MTL-154 00 060
Pennsylvania Tank Car



$20.90
MTL-154 00 070
Union Pacifc Tank Car



$20.90
MTL-154 00 080
Central Pacific Tank Car



$20.90
MTL-154 00 090