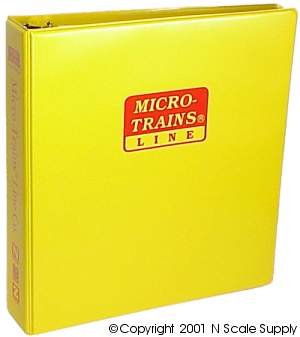 New larger format MTL Ring Binder
New user-friendly horizontal format
New modular format makes updates easy
Infinitely adjustable and expandable
SECTION ONE – GENERAL INFORMATION The introduction begins with our Company Profile, and includes info on The Magne-Matic® Coupler System, Tools and Accessories, and a Glossary of modeling terms.
SECTION TWO - COUPLER CONVERSION GUIDE Everything you need to know about the Magne-Matic® Coupler Conversion System, this newly formatted Guide has been expanded to include Magne-Matic® information for both N and Z scales – plus – a new section on N scale brass! You get complete tables, charts, and instructions for virtually every known coupler conversion possible.
SECTION THREE – CAR BODY STYLES & PARTS GUIDE Now published with a full color photo example of each Micro-Trains® N Scale Body Style, this section also features exploded views of each individual body style, along with a complete listing of replacement parts and part numbers. It will bring you up to date with photos and drawings of our latest offerings.
---