Carson & Colorado
Road # 7
30' Box Car w/Sliding Door

Part #MTL-800 00 200
New: Dec 2009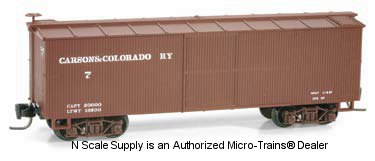 This 30' box car with single door is painted freight car red with white herald and lettering. It was built sometime in the 1880s and runs on Barber Coleman Arch Bar trucks. The Carson & Colorado Railway was a narrow gauge railroad that ran from Mound House, NV, to Keeler, CA. It was incorporated on May 10, 1880 as the Carson & Colorado Railroad with construction on the railroad beginning on May 31, 1880. The line was reorganized as the Carson & Colorado Railway in 1892 to reduce accumulated debt. Today, the car runs with the 'Slim Princess' at the Laws Railroad Museum & Historical Site, located near Bishop, CA.
Back to N Scale Supply catalog page for : Micro-Trains® Nn3 Narrow Gauge