Southern Pacific
Road # SP 132
30' Box Car w/Sliding Door

Part #MTL-800 00 190
N Scale Supply Price: $14.72
New: Aug 2009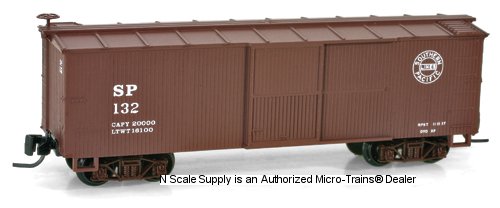 This 30' box car with sliding doors is painted box car red with white logo and lettering. It was built during the period 1888-1906, serviced in 1957 and runs on Barber Coleman Arch Bar trucks. SP 132 was originally built for the Oregonian Railroad in the 1880s. The Oregonian Railroad was acquired by the Southern Pacific® and the car eventually
received this paint post-1930. Today, the car runs with the 'Slim Princess' at the Laws Railroad Museum & Historical Site located near Bishop, CA.
Back to N Scale Supply catalog page for : Micro-Trains® Nn3 Narrow Gauge