Sandy River & Rangeley Lake
Road # SR&RL 74
30' Box Car w/Single Door

Part #MTL-800 00 150
N Scale Supply Price:
Reprint: Oct 2007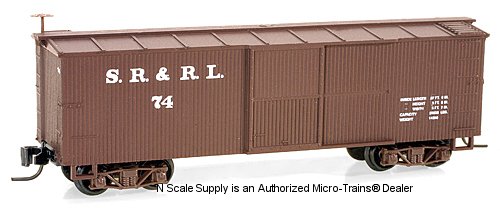 This box car red 30' box car with single door has white lettering and runs on brown Barber Coleman Arch Bar trucks. The Sandy River Railroad was started in 1879 to connect northern Franklin County with Maine Central Railroad, which terminated in Farmington. In 1908, the Sandy River merged with all of the other Franklin County Liliputs and emerged as the Sandy River & Rangeley Lakes Railroad, boasting over 120 miles of track and 13 engines.
Back to N Scale Supply catalog page for : Micro-Trains® Nn3 Narrow Gauge