Chicago, Burlington & Quincy
Road # CB&Q 39305
40' Standard Box Car w/Single Door, Full Ladders, w/o Roofwalk

Part #MTL-73050
N Scale Supply Price: Sold Out
New: April 2004

Both regular and low-profile wheels are included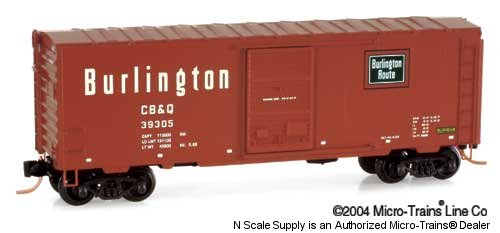 This 40' standard box car with single door, full ladders and no roofwalk is one of 550 XM-32 boxcars overhauled at Havelock, Nebraska in 1968. Originally an XM-32D built at Havelock in September 1953, #39305 went through the rebuild program at Havelock in May 1968. When the AAR implemented the requirement in 1966 that roofwalks be removed from freight cars, the Burlington began removing them from cars when they were routinely shopped. #39305 still has its full height ladders and has received a simplified Chinese red paint scheme with the white slogans and horizontal lines being deleted.
Back to N Scale Supply catalog page for: Micro-Trains® 73000 Series