Micro-Trains® #65430
39' Single Dome Tank Car
Richfield Oil Company
Road # ROX 670
Released September 1998
SOLD OUT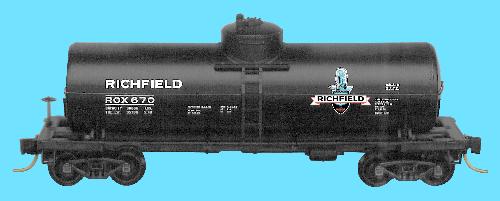 Originally built January 1921 by General American Transportation Company, this 39' single dome tanker was painted black and lettered in white by the Richfield Oil Company May 12, 1961 at the Watson shops. A blue and silver eagle carries a silver shield containing the company's slogan 'The Gasoline of Power' in orange letters. The Richfield name, in black, is on the white banner. With the journals repacked April 21, 1959 at Los Angeles by the Southern Pacific, #670 was ready to go to work for Richfield. The reweigh date of May of 1948 remained unchanged.
Back to Micro-Trains® 65000 Series Page
---
Email to sales@nscalesupply.com

Back to Main Page
Back to Catalog Page
© Copyright 1998, 1999 by Solution Development, inc.