Pennsylvania Railroad
Road # PRR 220886
33' Twin Bay Hopper, Composite Sides

Part #MTL-57100
N Scale Supply Price:
Reprint: April 2004

Both regular and low-profile wheels are included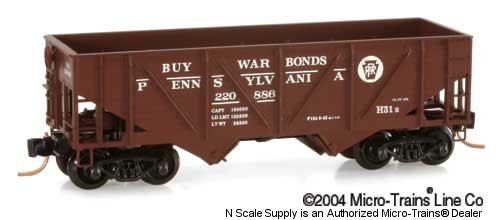 This 33' twin bay hopper with composite sides is painted Pennsy brown with white logo and lettering. The "Buy War Bonds" logo stenciled on the side of this car demonstrates support of the war efforts of the time. Built by Pressed Steel Car Company in July of 1942, and later serviced in May of 1943, this hopper is a Pennsylvania System Class H31B. The H31B is a composite-side hopper built from a 1941 steel hopper design, which was modified with wood construction during WWII to accommodate wartime economy.
Back to catalog page for: Micro-Trains® 57000 Series