Bangor & Aroostook
Road # BAR 6006
40' Double-Sheated Wood Reefer w/Vertical Brakewheel

Part #MTL-49550
N Scale Supply Price:
New: October 2003

Both regular and low-profile wheels are included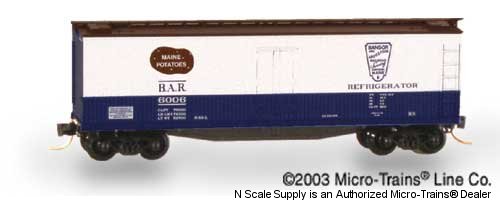 This 40' double-sheathed wood reefer with vertical brakewheel is painted box car red with white and PHD blue side masks. The ends are masked PHD blue. It is lettered in white on both sides and ends with the potato logo on the sides. BAR 6006 was built in 1926 and purchased secondhand from Merchants Despatch Transportation (MDT). The blue and white paint scheme is the original, in contrast to the normal white scheme for wood reefers of that era. It was later repainted to yellow or orange. Aroostook County potatoes for many years went to market in wooden reefers such as this, the "Maine Potato" being a post-war betterment.
Back to N Scale Supply catalog page for : Micro-Trains® 49000 Series