Hills Brother's Coffee
Road # HBCX 163
40' Double-Sheathed Wood Box Car with Single Door

Part #MTL-42100
N Scale Supply Price:Sold Out
Reprint: April 2004

Both regular and low-profile wheels are included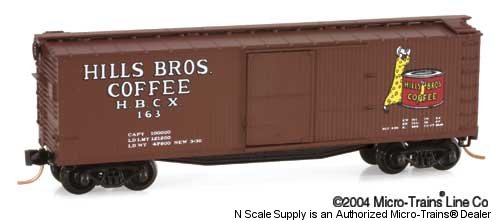 This 40' double-sheathed wood box car with single sliding door is painted box car red. It is lettered in white with black outlines and the familiar turbaned coffee drinker logo is white, yellow, red and black. It was built in March 1930 and runs on black Bettendorf trucks.
Back to N Scale Supply catalog page for : Micro-Trains® #42000 Series