Micro-Trains® #38230
50' Standard Box Car with
Plug Door without Roofwalk
Hamm's Beer
Road # H.A.M.X. 31221
Release October 1998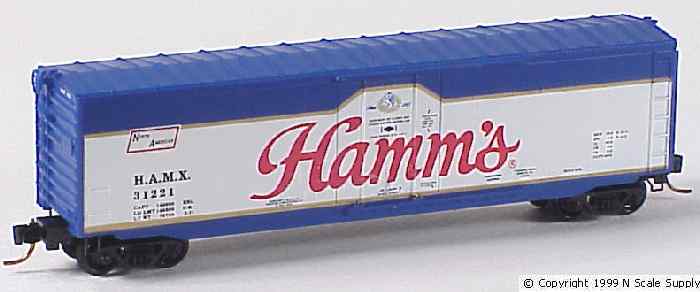 Leased from North American Car Corporation, this insulated 50' plug door box car without roofwalk is one of 100 to wear this 1971 Hamms® paint scheme. Painted blue overall with the white side area outlined in gold, the Hamms® name is in red across the side. Lettering is stenciled in black on the sides, white on the ends and gold, blue and black on the doors. When new in February of 1965, these class RBL cars wore the earlier Hamms® scheme which included two tilted, beer-filled stemmed glassware and the slogan 'Refreshing as the Land of Sky Blue Waters'. These class RBL cars are equipped with load divides and fork lift truck pallets which are considered part of the car.
Back to Micro-Trains® 38000 Page
---
Email to sales@nscalesupply.com

Back to Main Page
Back to Catalog Page
© Copyright 1998, 1999 by Solution Development, inc.