Lucky Strike
Chicago Great Western 3-Pack
Part #MTL-21432
N Scale Supply Price: Sold Out
New: October 2003
Both regular and low-profile wheels are included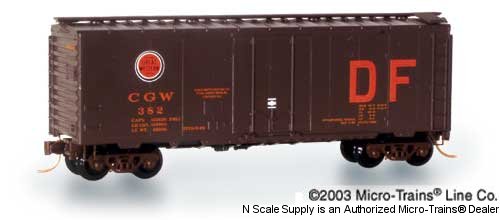 40' Steel Ice Reefer
Road #CGW 11614
A sub-series of CGW 1001-1300, three cars (1341, 1342 & 1343) were renumbered in 1962 when "DF" loaders were installed. They received maroon paint and the 24" "Lucky Strike" herald to indicate the installation of DF loaders.

50' Gondola, Straight Side, w/Drop Ends
Road #CGW 1343
General American Transportation Corporation built this 75,000 lb. capacity car in January 1937 for Union Refrigerator Transit Co. It was painted and renumbered for lease to CGW in January 1961.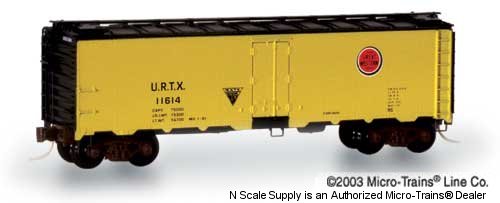 40' Standard Box Car, Plug Door
Road #CGW 382
This series was designated XMLI which is an insulated box car with load restraining devices. The Evans Products Company installed the 'Damage Free' equipment.
Back to N Scale Supply catalog page for : Micro-Trains® #21000 Series