South Carolina State Car (#14 of 50)
Road # SC 1788
40' Standard Box Car, Plug Door

Part #MTL-21378
N Scale Supply Price:
New: May 2004

Both regular and low-profile wheels are included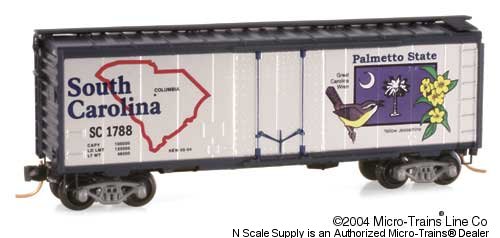 This 40' standard box car with plug door representing the state of South Carolina is car #14 of a 50-car series for each of the 50 states in the union. It is painted dark blue with aluminum sides and sports the Great Carolina Wren and Yellow Jessamine flower, South Carolina's official bird and flower. The flag of the state of South Carolina is in the background. The road number 1788 is the year the 'Palmetto State' was admitted to the Union.
Back to N Scale Supply catalog page for : Micro-Trains® #21000 Series