New Haven
Road # NH 36438
40' Standard Box Car, Single Door

Part #MTL-20350
N Scale Supply Price: Sold Out
Reprint: October 2003

Both regular and low-profile wheels are included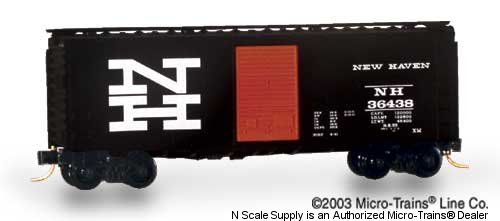 This 40' standard box car with single Youngstown door is painted black with orange doors, white logo and lettering. It was built in 1941 by the Pressed Steel Car Company and serviced in 1955. It runs on black Bettendorf trucks. NH 36438 was previously numbered 30627 before the 1955 rebuild and leased back to New Haven. This steel box car was a popular bodystyle for NH in the 1940s with 6000 being purchased to replace the aging wood box car fleet.
Back to N Scale Supply catalog page for : Micro-Trains® #20000 Series