Denver & Rio Grande Western
Road # D&RGW 60034
40' Standard Box Car, Single Door

Part #MTL-20110
N Scale Supply Price:
Reprint: December 2002

Both regular and low-profile wheels are included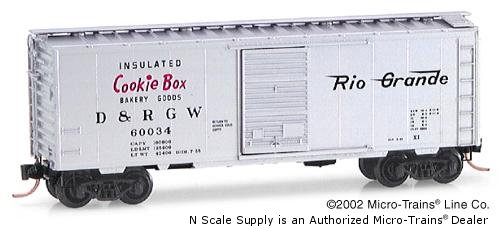 The Pressed Steel Car Co. built this 40' standard box car with single door on September 9, 1939. It was serviced in July 1955 and painted in this 'cookie box' scheme of silver with black lettering and red 'Cookie Box.' The 2,906 cu ft, 100,000 lb capacity, class XI box is equipped with Bettendorf trucks. These cars hauled Keebler baked goods from the baker's plant in Denver, Colorado to distribution centers. The D&RGW was built to move gold and silver out of the Colorado Rockies but became a common carrier linking the region to the transcontinental rail network.
Back to N Scale Supply catalog page for : Micro-Trains® #20000 Series