Micro-Trains® #20029 REPRINT
40' Standard Box Car w/Single Door
New York, New Haven & Hartford
Road # NH 35143
Released October 1998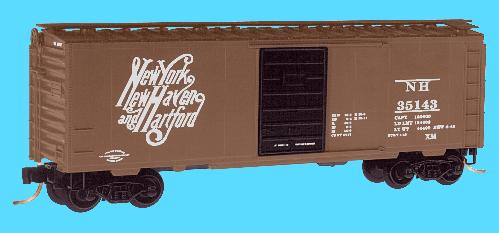 #35143, a 40' standard box car with single door is painted box car red with black door and white lettering on sides and ends. Built in April 1948 by Pullman Standard Car Manufacturing Company, Lot #5907, this car is from a 1,000 PS-1 car fleet with Superior doors. The New York, New Haven & Hartford Railroad, or New Haven for short, was created August 6, 1872 and constructed a system of track throughout Connecticut, Rhode Island, southern Massachusetts, and into New York. This paint scheme was first released December 1972 and re-released May of 1995 as a three pack.
Back to Micro-Trains® 20000 Page
---
Email to sales@nscalesupply.com

Back to Main Page
Back to Catalog Page
© Copyright 1998 by Solution Development, inc.