Denver & Rio Grande Western
Road # D&RGW 3276
30' Box Car w/Single Door

Part #MTL-15112
N Scale Supply Price: $
Reprint Release Date: April 2002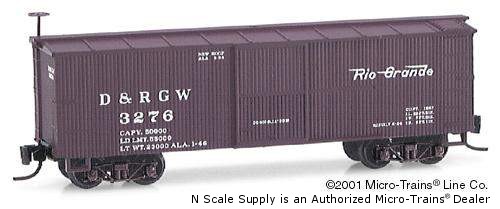 In June 1924, the D&RGW built this box car with single door at their Alamosa shops. It is painted box car red and lettered in white and includes D&RGW's 'speed lettering.' Number D&RGW 3276 is part of a fleet of 30' box cars that were serviced at the same shops in January 1946. Because of tax incentives for rebuilding existing equipment, and the unique system of rebuilding at Alamosa, the rebuild resulted in a virtually new car. The 'Alamosa system' was different because crews moved from car to car; dismantling, sorting, reclaiming, and rebuilding.
Back to N Scale Supply catalog page for : Micro-Trains® Nn3 Narrow Gauge