Missouri Pacific

Road #

13676

Bay Window Caboose

Part #MTL-130 00 110

N Scale Supply Price:
New: April 2013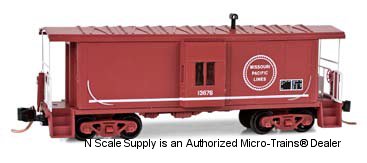 This bay window caboose is painted red with white Missouri Pacific 'Buzz Saw' logo. It was built in December 1976 and serviced in the 1980s. It's Lettered in white and runs on Swing-Motion trucks. Missouri Pacific owned many bay window cabooses formerly built and owned by other shops. They were purchased, rebuilt and returned to service in 'like new' condition in December 1976.
Back to N Scale Supply catalog page for : Micro-Trains® 130 00 000