Union Pacific /WP

Road #

WP 438

Bay Window Caboose

Part #MTL-130 00 060

N Scale Supply Price:
New: Dec 2009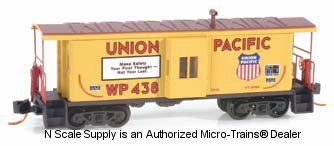 This bay window caboose is painted UP Armour Yellow sides and brown roof with red and black 'Union Pacific' letters, red, white & blue UP shield, black and white safety message, black or red lettering and runs on black Bettendorf swing motion trucks.
Numbered into series 425-460, International built 34 bay window cabooses for the Western Pacific in October 1955 to February 1956. December 22, 1982, Western Pacific Railway merged with Union Pacific and the Missouri Pacific Railroad. In June 1984, UP painted seven WP cabooses to UP's yellow paint scheme, keeping the WP reporting marks and numbers. They were assigned to UP's caboose class CA-14. All seven cars entered service at Stockton, Ca. in early July 1984. These were the only WP cabooses to receive yellow paint.
Back to N Scale Supply catalog page for : Micro-Trains® 130 00 000