Penn Central

Road #

PC 18434

Bay Window Caboose

Part #MTL-130 00 050

N Scale Supply Price:
New: Nov 2009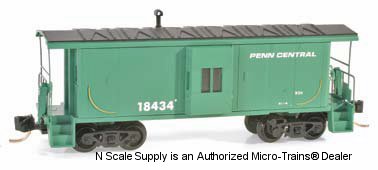 This bay window caboose is painted Penn Central green with black roof and white logo and lettering. It was built in January 1946, serviced in November 1969 and runs on Swing-Motion caboose trucks. Originating on the Southern Railroad as Southern 3126, it was acquired by Penn Central and repainted in its final PC scheme in November 1969.
Back to N Scale Supply catalog page for : Micro-Trains® 130 00 000