Southern Pacific
Road # SP 4745
Bay Window Caboose

Part #MTL-130 00 011
10/07/09: We had received plenty of extra SP cabooses this month, but they have blown out of here faster than expected.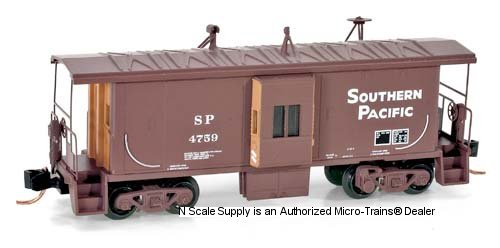 This bay window caboose is painted mineral red with daylight orange ends and bay sides and lettered in white. It was built between March and May 1980 by International Car Co./PACCAR and runs on Bettendorf Swing-Motion caboose trucks. The bay
window, or side-hung cupola, debuted on the Southern Pacific Lines in 1947. They were designed in response to increasing freight car height and the resultant decrease in visibility from the cupola.
Back to N Scale Supply catalog page for : Micro-Trains® 130 00 000