Western Paving

Road # 949911
3-Bay Ortner Rapid Discharge Hopper

Part #MTL-125 00 110
N Scale Supply Price:
New: July 2012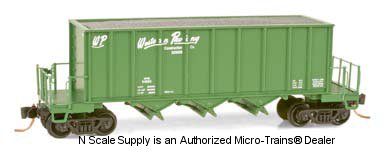 This 43' Ortner open hopper is painted green with white lettering on sides and ends. Its primary use, by Western Paving & Construction Co., was to transport gravel to the Denver International Airport during its construction. Ideal for carrying heavy aggregate, the 'Rapid Discharge' design is able to self-clear through the rails within 30 seconds. After several cars from this series were scrapped as the result of a wreck, remaining cars were seen for some time after the completion of the airport.
Back to N Scale Supply catalog page for : Micro-Trains® 125000 Series