CSX Transportation

Road # CSXT 291847
3-Bay Ortner Rapid Discharge Hopper

Part #MTL-125 00 100
N Scale Supply Price:
New: April 2011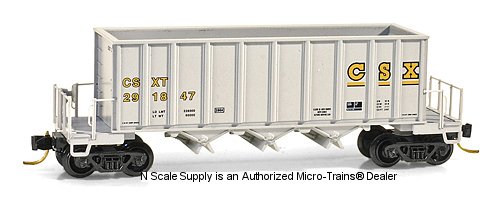 .This three-bay rapid discharge hopper is painted light gray with yellow and black logo and black lettering. It was built in 1999 by the Ortner Freight Car Company of Cincinnati, OH, and runs on Barber Roller Bearing trucks. The rapid discharge
design self clears through the rails within 30 seconds and is perfect for carrying heavy aggregate. Most of the three-bay hoppers were owned and in captive service of construction and utility companies. They traveled in unit fleets, carrying heavy
material like stone, aggregate, iron ore and limestone.
Back to N Scale Supply catalog page for : Micro-Trains® 125000 Series