Baltimore & Ohio
Road # B&O 9936
Heavyweight Depressed Center Flat Car w/Heavy Load

Part #MTL-109 00 210
N Scale Supply Price:
Reprint: Oct 2010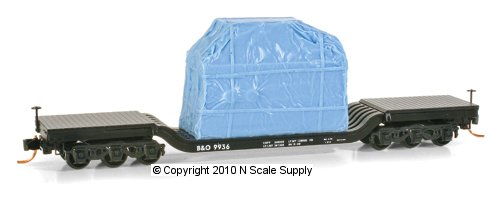 This heavyweight depressed-center flat car with load is painted black with white logo and lettering. It was built in March 1959, serviced in September 1969, and runs on Commonwealth trucks. It received the C&O® 1968 gothic, demi-bold style lettering. Painted black with white stenciling. The Baltimore & Ohio® owned only two flat cars of this class profile.
Back to N Scale Supply catalog page for: Micro-Trains® 109200 Series