Canadian Pacific
Road # CP 309928
Heavyweight Depressed Center Flat Car

Part #MTL-109 00 060
N Scale Supply Price:
New: Oct 2013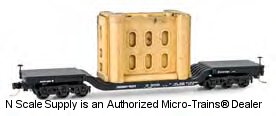 This heavyweight depressed center flat car with machine load is painted black with white herald and lettering. It was built in 1930, serviced in 1958, and runs on Commonwealth freight trucks. It ran the Canadian provinces and territories from 1958 until some time in the 1970s. This flat car is one of a five-car series built with a one-piece cast steel Commonwealth frame with a handbrake at each end and 30" diameter wheels.
Back to N Scale Supply catalog page for: Micro-Trains® 109200 Series