Chicago & North Western
Road # 135197
100 Ton 3-Bay Rib-side Hopper

Part #MTL-108 00 250
New: April 2014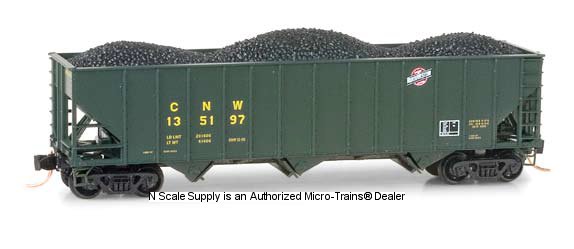 This 100-ton three-bay open hopper is painted green with CNW's Chicago System Red and Black logo and letting in yellow and white. It was built in September 1966, serviced in December 2005, and runs on Barber Roller Bearing trucks. This hopper was built and numbered into the 200-car series 135000-135199. RD# CNW 135197 has been serviced and repainted probably at the CNW Clinton Shops in the mid-80s and again in 2005.
Back to N Scale Supply catalog page for : Micro-Trains® #108000 Series