Burlington Northern
Road # 577238
50' Steel Side, 14 Panel, Fixed End Gondola w/ Low Cover

Part #MTL-106 00 250
New: July 2014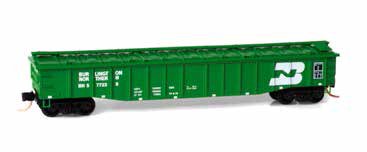 This 50' steel side fixed end gondola with low cover is painted BN green with white logo and lettering. It was
built in 1957 by Pullman-Standard, serviced in 1979, and runs on Barber Roller Bearing trucks. One of four
gondolas rebuilt for specialized service in June of 1979, this gondola has low covers and a wood floor. It was
repainted and renumbered for the Burlington Northern into the 577236-577239 series.
Back to N Scale Supply catalog page for : Micro-Trains® 106000 Series