Northern Pacific
Road # NP 659995
40' Hy-Cube Box Car

Part #MTL-101 00 010
N Scale Supply Price:
Reprint: Sept 2013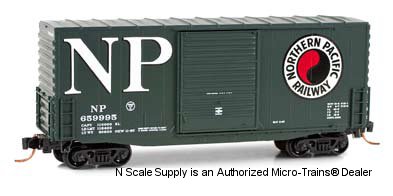 This 40' High-Cube box car is painted dark green with the white, black and red Northern Pacific Monad herald. Lettering is in white. It was built in November 1967 and runs on Roller Bearing trucks. The high-cube box cars were used primarily for appliance traffic.
Back to N Scale Supply catalog page for : Micro-Trains® #101 00 000 Series