Seaboard Coastline / Louisville & Nashville

Road # CSXT 248057
3-Bay ACF Center Flow® Covered Hopper w/Elongated Hatches

Part #MTL-094 00 290
N Scale Supply Price:
New: Jan 2009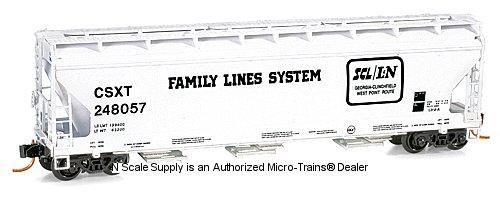 This three-bay ACF Center Flow covered hopper with elongated hatches is painted white with black logos and lettering. It was built by ACF Industries in July 1979 and runs on Roller Bearing trucks. CSX Transportation was formed on July 1, 1986 as a renaming of the Seaboard System Railroad and Chessie System, Inc., into one entity. The originator of the Seaboard System was the former Seaboard Air Line Railroad, which previously merged Atlantic Coast Line Railroad, and later Louisville and Nashville Railroad, as well as several smaller subsidiaries.
Back to N Scale Supply catalog page for : Micro-Trains 94000 Series