Atchison, Topeka & Santa Fe
Road # 7153
50' Auto Box Car w/Double Side Doors & End Door

Part #MTL-078 00 130
N Scale Supply Price:
New: Oct 2013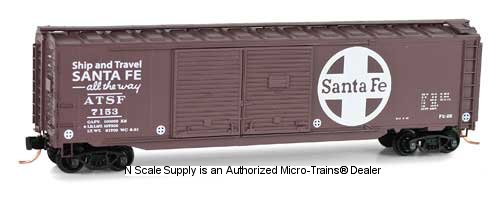 This 50' Class FE-22 auto box car with double side doors and end door is painted brown with white
'circle-cross' herald and large Cooper Black 'Santa Fe' font. The 'Ship and Travel all the way' slogan is
on both sides. It was built in February 1941 at the Topeka Shops, serviced at the West Wichita Shops in
June 1961, and runs on black Dalman trucks. This car could be seen on the rails 'as it is' between 1961
and the mid-1970s.
Back to N Scale Supply catalog page for : Micro-Trains® #78000 Series