Pennsylvania Railroad
Road # 81999
50' Auto Box Car w/Double Side Doors & End Door

Part #MTL-078 00 010
N Scale Supply Price:
Reprint: May 2012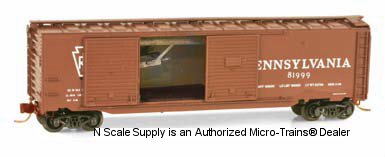 This 50' PRR box car was built in February 1946. The journal boxes were repacked on May 10, 1951. Wearing its
second paint scheme, the "Shadow Keystone" was in use from February 1954 thru June 1961. PRR "Calendar"
lettering was used thru June 1954. After which, numbering was in a straight line. By 1968 there were only 80
remaining cars from the original 200 car fleet of class X41A box cars.
Back to N Scale Supply catalog page for : Micro-Trains® #78000 Series