Union Pacific

Road # UP 507405
50' Standard Box Car, Single Door, w/o Roofwalk

Part #MTL-077 00 050
N Scale Supply Price: Sold Out
Reprint: July 2010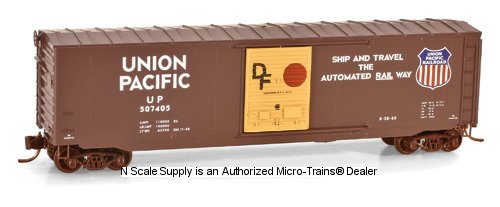 This 50' standard box car with sliding door, no roofwalk and tall ladders is painted UP synthetic red with with
red, white and blue UP shield and black lettering. The door is painted reefer yellow with DF-2 loader symbols. It
runs on Bettendorf trucks. This box car was rebuilt in November 1968 with improvements, including a 10' door.
The series 507400-507416, of which this class B-50-60 box car was a member, was equipped with a nine-belt
DF-2 loader.
Back to N Scale Supply catalog page for: Micro-Trains® 77000 Series