Florida East Coast
Road # 5007

50' Standard Box Car, Double Plug Door w/o Roofwalk

Part #MTL-076 00 120
N Scale Supply Price: $20.28
New: Oct 2011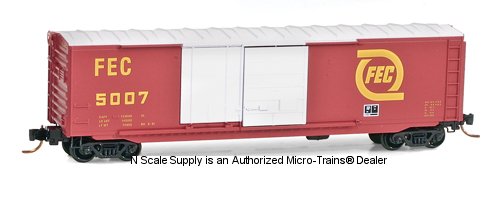 This 50' standard box car with plug and sliding doors is painted red with white doors and roof. The modern FEC logo and lettering in yellow. It was built in 1962, repainted in 1981, and runs on Roller Bearing trucks. Henry Morrison Flagler A co-founder of Standard Oil, had created a legacy as one of America's most successful entrepreneurs when he took over the Jacksonville, St. Augustine & Halifax narrow gauge line and converted it to standard gauge in 1885. In September 1995, the railroad reached its 100th anniversary year operating as Florida East Coast Railway. FEC is one of the few railroads to survive to the present despite difficult times.
Back to N Scale Supply catalog page for: Micro-Trains® 76000 Series