Canadian National
Road # 557688

50' Standard Box Car, Double Plug Door w/o Roofwalk

Part #MTL-076 00 010
N Scale Supply Price: $19.16
Reprint: Dec 2013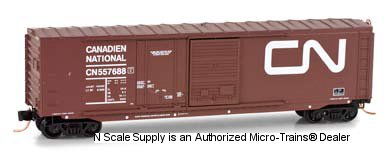 This 50' standard box car with plug and sliding doors and no roofwalk is painted box car red with white 'wet noodle' CN logo and white lettering in both English and French. It was built in December 1972 and runs on Barber Roller Bearing trucks. The Canadian National Railway Company is a Canadian Class I railway headquartered in Montreal, Quebec, that serves Canada and the Midwestern/Southern United States. CN's slogan is "North America's Railroad."
Back to N Scale Supply catalog page for: Micro-Trains® 76000 Series