Detroit, Toledo & Ironton
Road # DTI 20066
50' Standard Box Car, Double Plug Door w/o Roofwalk

Part #MTL-075 00 190
N Scale Supply Price:
New: Sept 2010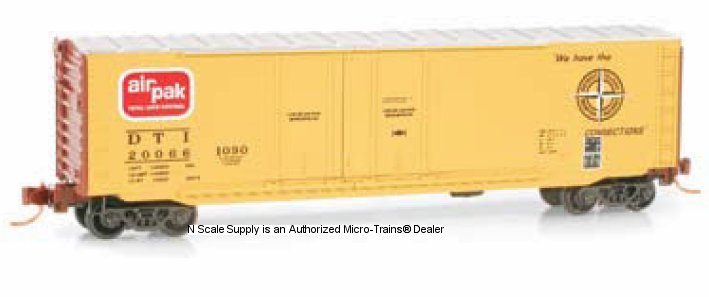 This 50' standard box car with double doors and no roofwalk is painted with reefer yellow sides, aluminum roof and freight
car red ends. It is lettered in black with a black and white compass logo and the red and white Air-Pak logo. It was built in
1968 by American Car & Foundry, serviced in 1979, and runs on Roller Bearing trucks. This car displays the Air-Pak logo to advertise the internal Evans load divider installed in the car.
Back to N Scale Supply catalog page for: Micro-Trains® 75000 Series