Pacific Great Eastern

Road # PGE 8002
40' Standard Box Car Double Plug Door
without Roofwalk

Part #MTL-074 00 160
N Scale Supply Price:
New: July 2011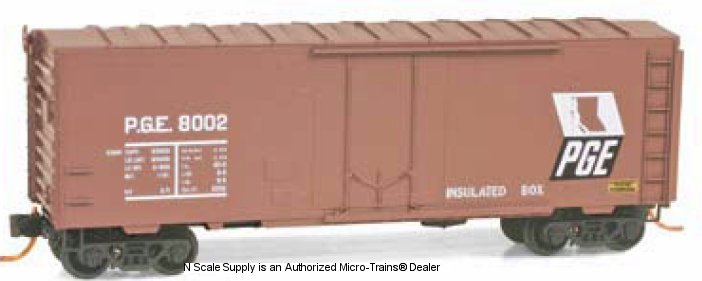 This 40' standard box car with plug doors and marked with tall ladders and no roofwalk, is painted brown with the black
and white PGE map herald, white lettering and 'Insulated Box' label. It was built in November 1961 by Dominion Steel
& Coal, rebuilt in March 1971, and runs on Roller Bearing trucks. This car is one of 12 in this series insulated and heated
by underslung alcohol fueled heaters, protecting sensitive loads from excessive heat or cold.
Back to N Scale Supply catalog page for : Micro-Trains® #74000 Series