William Taft

Road # 1909-1913
40' Standard Box Car Double Plug Door
without Roofwalk

Part #MTL-074 00 131
N Scale Supply Price:
New: April 2011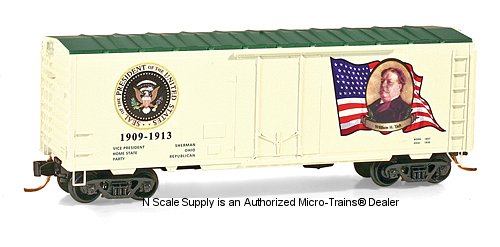 This 40' standard box car with plug door and no roofwalk is car #31 of a 44-car series representing each of the presidents of the United States. It bears the portrait of our 27th president, William H. Taft. The car comes with a commemorative pin replicated from this era. President Taft's profession was as attorney and judge. The political office he most desired was Chief Justice of the Supreme Court, to which he was appointed in 1921. He also served as Secretary of War prior to his Presidency.
Back to N Scale Supply catalog page for : Micro-Trains® #74000 Series