Lyndon Johnson

Road # 1963-1969
40' Standard Box Car Double Plug Door
without Roofwalk

Part #MTL-074 00 123
N Scale Supply Price:
New: July 2010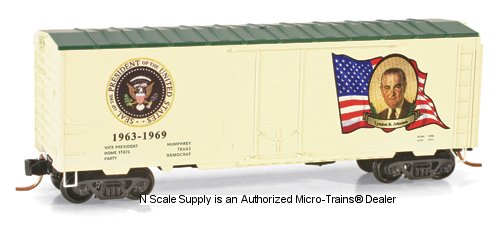 This 40' standard box car with plug door and no roofwalk is car #23 of a 44-car series representing each of the presidents of the United States. It bears the portrait of our 36th president, Lyndon Johnson. The car comes with a commemorative pin replicated from this era. Johnson was responsible for designing the Great Society legislation that included laws that upheld civil rights, public broadcasting, Medicare, Medicaid, environmental protection, aid to education, and his War on Poverty. Simultaneously, he greatly escalated direct involvment in the Vietnam War.
Back to N Scale Supply catalog page for : Micro-Trains® #74000 Series